by Steve Harris
Team Racing may well be the most exciting of all the sailing disciplines, but it seems that even the most seasoned sailors are not particularly familiar with it.  I was fortunate this past fall to be invited by Sam Patterson, Sailing Director for The Foundry in Cleveland to serve as the Principal Race Officer (PRO) for this year's US Team Racing Championships for the Hinman Trophy held at The Foundry's new sailing center in Cleveland's Inner Harbor.  The Foundry's story is, itself an interesting one.  Opening in late 2015 as a non-profit rowing and fitness center, The Foundry occupies several buildings of old industrial space in the Flats of Cleveland.  They have one of the largest installations of indoor rowing tanks in the United States.  The operation soon expanded into sailing as well.  The Foundry's Sailing Center is located in the Historic Coast Guard Station, on a small island just north of Wendy Park.  Abandoned by the Coast Guard in the 1970s, there is much work to be done on the facility, but the operation is in full swing and hosts some of the most active community sailing programs in the midwest.  This year, they were able to purchase a fleet of 12 brand new Zim 420E sailboats.  It was these boats, that we used for the Hinman racing this year.
That brings me back to the racing… Team Racing.  Most are familiar with our more "typical" fleet racing discipline… The boats all start at the same time, on the same starting line, sail the same course, and the point is to beat everyone else.  Team racing however is a lot more like speed skating – in more ways than one.  For starters, teams race against each other in a round-robin format.  At this year's Hinman, we had 12 teams from all over the U.S.  In a rather complex format, teams of 3 boats (6 sailors – 3 skippers, 3 crew) race head to head against other teams of 3 boats.  Certainly having all three of your boats in 1st, 2nd, and 3rd would mean you win, but there are multiple combinations of finishes.  In a three boat format, with each boat getting points equal to their finish position, there are 21 total points in a given heat.  The point then, is not to necessarily get 1st place (as in fleet racing) but to get 10 points or less, therefore winning that race and receiving 1 point for your team in the standings.  In team standings, the highest point value wins.  You could easily win the race with your boats finishing 2, 3, 5 (10 points) as your opponent, while crossing the line first, still earns 11 points (1, 4, 6).  This makes team racing much more tactical than almost any other discipline.  Keeping your opponent from finishing well is just as important, if not more so, than doing well yourself.  Of course, all the same right of way rules apply as in any other sailing discipline, so it can get very interesting.  Here's where the sport is sometimes less like speed skating than it is like roller derby.  Generally, these races are umpired on the water.  Umpires make nearly instantaneous calls and penalties are given out during the race – no waiting to fight it out in the protest room afterwards.  It's fast paced and exciting.  We had a stellar RC crew in Cleveland and, on average started another race about ever 4 1/2 to 5 minutes.  For the three day event, we ran an amazing 178 races.  If the wind would've been a bit more cooperative on Sunday, we would have done that with time leftover and could've maybe have gotten even more!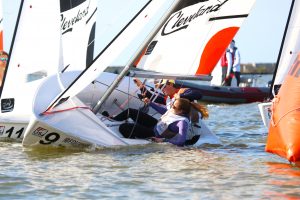 Top to bottom, the Foundry did an amazing job hosting this event and I was very honored to be invited to be a part of it.  I've had some exposure to team racing before, but nothing like the intensity of this particular championship.  It was something else.  Team racing is starting to become more popular in High School Sailing and, with the growth of high school sailing in central Ohio, who knows? We might see some of it around here.  I've included some links below if you're interested in learning more about the discipline.  And… if you happen to be in the Cleveland area, stop by the Historic Coast Guard Station and see what Sam and his team have accomplished there.  And, YES… they sail pretty much year-round.  It's frostbiting season and where else but Cleveland would sailing fit that name more aptly.