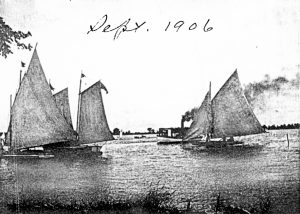 From the earliest days of BLYC, sailing and boating have been a primary focus of the Club.  The first Club event, held on Memorial Day, 1906 featured a boat parade as well as racing for both power and sail boats.  Through the years, true to yachting tradition, boating activities remain an important part of life at BLYC.
BLYC is also home to several champions in the sport of sailing.  In the mid-twentieth century, sailing was king at Buckeye Lake and BLYC was home to many champions in the sport including George Fisher & Jim Dressel.  BLYC's junior sailing program, first started in 1917, grew into its own in the early 50's and has produced many champions – Matt Fisher, Greg Fisher, Mike Hein, and the 1977 Sears Cup Champion team of Will Petersilge, Dan Dressel, and Dan Roshon.  More information about these accomplishments can be found in the history archives on the site.
Today, BLYC continues to offer not only a fine marina facility for members to dock their boats – power and sail – but also boating activities that appeal to a wide range of interests.  Please follow the links in the dropdown menu above for more specific information.