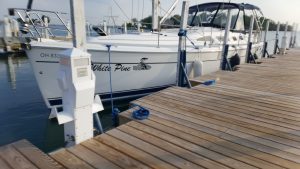 After a walleye dinner at Mossback's and a night on the boat at PIBYC, the Ancient Mariners enjoyed a beautiful Lake Erie sunrise on Tuesday morning which brought stiff breeze and a great day sail out and around Ballast Island and over to Kelleys.  As Jerry reported, "We sailed out and back – It was too nice of a day to go in."
The breeze was 11-15 knots out of the southeast making for great daysail around the islands – hitting 7.5 knots of boatspeed with the rail in the water – SPORTY!
  Watch the video below…
Another night at Put-in-Bay and today, the crew plans to sail over to Kelleys Island to enjoy all that it has to offer ashore, stay the night, and then sail back to Huron on Thursday.
Before leaving PIB, however, they made a stop by the docks in Squaw Harbor.  Your editor received the following photo this morning with the caption… "Boarding Party"
Well, it's good to know that SummerzCool is still safe at her moorings.  Hopefully, they didn't find the stash of rum!  LOL