Commodore Steve Harris – June, 2016
Through the years, countless men and women have worked to make BLYC the great Club that it is. One, in particular however, stands out – Edgar Thurston Wolfe – Commodore of BLYC in 1934 and of the Inter-Lake Yachting Association in 1937.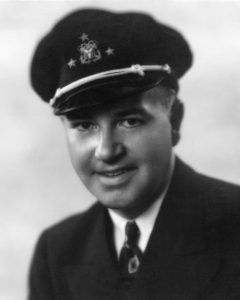 Known to most as a newspaper man, publisher of the Ohio State Journal and the Columbus Dispatch, his interests and activities went well beyond his successes in business. As his obituary read, "The dominant motivation of Edgar Thurston Wolfe was the civic improvement of this community." He was influential in many improvements in the Columbus area – the establishment of Port Columbus, improved hospital service, better school buildings, and development of the expressway system.
Born in 1893, the son of Robert F. Wolfe, he was a graduate of Princeton University and an accomplished musician. Shortly before graduation in 1917 and just days after the U.S. entry into World War I, Edgar enlisted in the Navy and served until war's end. It was said that he gained his appreciation for the water and love of boating as a result of this service. He maintained several boats here at Buckeye Lake, on the Florida coast, and on Lake Erie.
His influence and generosity extended beyond the city of Columbus, however. Summering on Journal Island, Wolfe was an active member of BLYC with a great love for the lake. In addition to championing improvements at and around Buckeye Lake, he is also remembered for marshalling the resources of the Club, in January of 1937, to assist flood victims in Portsmouth. Under his leadership, the Club sent 11 boats and dozens of members by train to assist in the rescue efforts and distribute food and clean water to the victims. Photos from this flotilla hang in the entryway of the Clubhouse.
Less known, and significant to the life of the Club, is that he may be the reason that BLYC survived the Great Depression. When it came time for BLYC to buy out the remaining shares of the Building Company, formed to purchase the island intially, the Club didn't have the resources to cover it. Always generous when the Club was in need, Commodore Wolfe purchased the remaining shares. Annually, for several years through the 1930's, Commodore Wolfe would meet with the current Commodore in front of the fireplace in the Clubhouse, discuss how the Club was faring, and place some of those shares into the fire. Thanks to his generosity, the final shares were burned on November 28, 1938 and BLYC owned our home outright.