Commodore Steve Harris, November 2018
Those who have read up on the history of BLYC have certainly encountered the phrase "Tar Social" on more than one occasion. Apparently, these events were quite common in the early years of the club. A few years back, Commodore Foster wrote a piece for the Log about these events and deciphered the origin. While cataloging the volumes of old documents which Frank had saved through the years, I came across the invitation pictured to the right. I have digitally remastered it and plan to display it in the Cupola Room upstairs.
We all know what a "social" is. Some of us will think of church picnics . Those of us who are known to enjoy various pub entertainers both here at Buckeye Lake and at Put-in-Bay may think of a time for drinking and toasting each other. Either way, it's a time to enjoy each other's company. But, what is a "Tar?"
Thankfully, Frank did a fair amount of research on this and we now understand that "Tar" is an old slang term for a sailor. From his 2005 article…
"A 'palling' is a canvas cover used for covering a hatch or other object on a ship. Tar was used to seal ship hulls and waterproof sails. When tar was applied to a palling, presumably to make it waterproof, it became a 'tar palling.' That two-word term got compounded in time to 'tarpaulin.' Because tarpaulins were associated with ships, the word 'tarpaulin' became an informal or slang name for 'sailor.' That usage got shortened to 'tar.'
So, a tar is a sailor. It's in the dictionary. If you have been around tar, you know how it rubs off to blacken your clothing and your skin. With all that tar on the sails and covers, I suspect sailors had a lot of black tar rubbed off on them. The appearance of a sailor must have made calling him a tar very appropriate."
So a "Tar Social" was a sailors' social. I assume that to include powerboaters as well. One will easily notice that there is a powerboat, and not a sailboat, pictured on this invitation from 1910.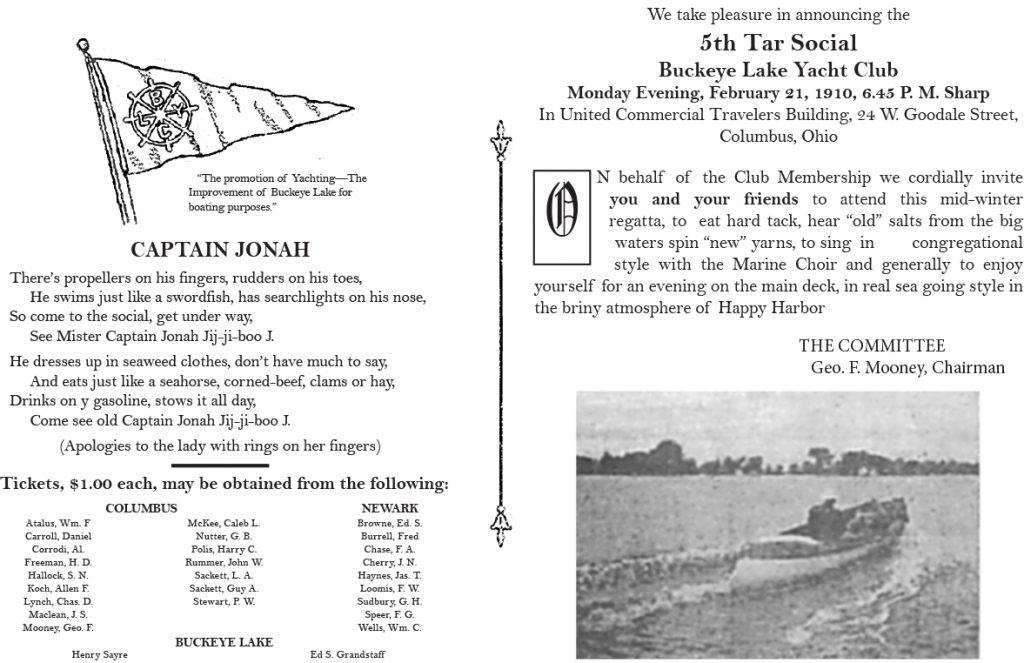 These events were an opportunity for Club members to get together in the off season when enjoying boating on the lake was not possible. The 1910 event, held in the UCT Hall in Columbus as our Clubhouse was yet to be built, was advertised as a "Mid-Winter Regatta" for "tars of BLYC and their landlubber friends" and heralded in the press as a "grand affair."
"The fifth 'Tar Social,' held recently by the Buckeye Lake Yacht Club at Columbus, O. was some function. Ample provision was made for intellectual and physical feasting. The usual collections of verses for singing purposes accompanied the program, from which this gem of maritime mirth is extracted:
My breakfast lies out on the ocean,
My dinner is down in the sea,
My supper is all in commotion,
Oh, back to the dry land for me.
The "Tar Social" was a howling success."
– Powerboating Magazine; April, 1910
Although held in Columbus, miles inland from any major body of water, the evening (and the press coverage) had a distinctly nautical theme:
"The main deck of the club house was rigged up especially for the event and everything was shipshape from the quarterdeck. A bad squall was only prevented by the pipe to hammocks, for when the sailors from Buckeye Lake started their yarns the breeze blew with great force.
"The tables were beautifully arranged with miniature yachts and flowers and the colored ensigns on the walls gave the banquet hall quite a nautical appearance. The menu was printed in nautical terms."
– The Newark Advocate; February 28, 1910
In that year, 1910, both the club and lake were young. One of the primary early purposes of BLYC was to work with state officials to facilitate improvements at Buckeye Lake. As such, many of the speeches that evening – which apparently went well into the night – were focused on that effort.
"Improvements at Buckeye Lake were talked over and met with a very cordial response from the yacht club members. General John C. Speaks urged the restocking of streams and lakes with fish and urged the support of club members. Pledging his aid in doing more for Buckeye Lake, George H. Watkins, of the state board of public works, made the speech of the evening and he was enthusiastically cheered.
– The Newark Advocate; February 28, 1910
This off season, we will undoubtedly have many "socials" during which members will gather, feast, and enjoy each other's company much like our predecessors did over a century ago. Once again, improvements around the lake will be a part of the discussions. There's no doubt that sailors (and their landlubber friends) at BLYC know how to hold a social. I'm not too sure about the singing though…