Commodore Steve Harris – February, 2016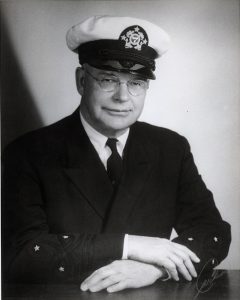 I was fortunate to serve the Inter-Lake Yachting Association as Commodore in 2014. Having been under the mentorship of P/C Gus Schell for several years, I considered it a great honor to be the third BLYC member to represent our fine Club in this capacity, following Gus who served in 1975 and P/C Edgar Wolfe in 1937. Much to my surprise, however, when I received the proof of the 2014 I-LYA Yearbook, I discovered that history as I understood it was incorrect. I was not the third, but rather the fourth! The I-LYA Historian reported, "I-LYA 50 Years Ago (1964): Frank H. Miller of Put-in-Bay and Buckeye Lake Yacht Clubs was I-LYA's Commodore." This set me on a search… Who was Commodore Miller? – His picture does not hang in the Commodores' Lounge with Commodores Wolfe & Schell neither is he listed among our Past Commodores of BLYC. I learned from BLYC's 75th Anniversary edition of the Log, that he had been a member in BLYC's early years, later relocated to Put-in-Bay, became Commodore of PIBYC and, eventually, I-LYA. But there is much, much more to the story of Commodore Miller.
Born in 1902, Frank Miller first came to Buckeye Lake in 1910, summering at the Schell Beach Hotel with his family. His father, James, joined BLYC in 1914. In 1917, he and Max Slaughter became the first Junior Members of the Club. Frank quickly became very active – iceboating and racing boats (power) were his passion. Over the years, he owned some of the fastest boats on Buckeye Lake – Unadilla, a 33' long, 46" wide speedboat – the fastest boat (24 mph) in the early 1900's – which he "rescued" from Circle Island; Dixie II, "The Fastest Classic Boat on Earth," now on display at the Antique Boat Museum in Clayton, NY; and Cat's Paw, a Luedtke K Cat sailboat, later purchased and brought home to Buckeye Lake by Gus Schell.

In his early years, Frank represented BLYC at the Detroit Gold Cup Races and the Chris Craft events in Algonac, Michigan (incidentally, according to P/C Miller, Chris Smith, the founder of what would later become Chris Craft was, himself, a member of BLYC). In 1919, the founding fathers of BLYC, including our first Commodore, Larry Sackett, were grooming Frank to become the youngest Commodore – at the tender age of 18! Realizing that he lacked the maturity to run an active Club, he declined, instead offering to run the Club's races that season – sail and power. Sackett agreed to take his place, thus serving his second term as Commodore.
Around that same time, Commodore Sackett introduced Frank to Ruth Smith, an Olympic swimmer, on board his boat, Sally Jane. Frank and Ruth married in 1924 and moved to Ashland, Kentucky, ending his regular involvement at BLYC. He was a founding member and the 2nd Commodore of the Ashland Yacht Club, modeled after BLYC, later purchased a home at Put-in-Bay and joined the Put-in-Bay Yacht Club. He went on to become very active in PIBYC, becoming its first "off-island" Commodore in 1952. Although most of his activity was at PIBYC, he remained involved at BLYC, returning each winter for iceboating. However, distance and the commitments of raising a family kept him from serving our Club as an officer. He did, however, continue to enter Cat's Paw in the annual I-LYA Regatta under BLYC's burgee and remained a member until his death in 1995.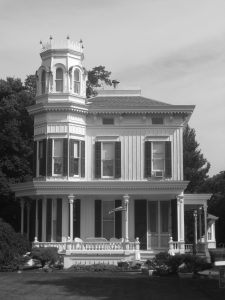 I recently located Commodore Miller's portrait in the archives. When I removed it from it's frame so that it could be digitized, I made an exciting discovery – a handwritten letter, dated August 1979, from Commodore Miller to Commodore George Fisher (1958), detailing his history with BLYC and requesting that his portrait hang in the Commodores' Lounge at BLYC – "…my favorite Yacht Club where I cut my teeth…"
As I-LYA Commodore, many of his key volunteers were BLYC members and an integral part of the team that made 1964 a very successful year. He went on to encourage Gus Schell to follow and also represent BLYC as Commodore of I-LYA, continuing a long tradition of BLYC leadership.
Somewhere through the years, likely due to lack of institutional memory, Commodore Miller's portrait was removed. It has now been digitally restored, and can hopefully be reprinted and framed to match those of Commodores Wolfe and Schell (and now Harris), and appropriately hung in the Commodores' Lounge, per his wishes.
---
CLICK HERE
to view Commodore Miller's handwritten letter
CLICK HERE
to read a typewritten transcription of the letter
---
UPDATE (February, 2018) – As approved by the BLYC Commodores' Association in August, 2017, Commodore Miller's portrait as I-LYA Commodore now hangs in the Commodores Lounge along with those of Wolfe, Schell, and Harris.