100 Years Ago…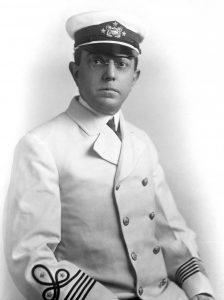 Although not a charter member in 1906, William Frisbie had been an active sailor and boater at BLYC since the early years. He was active on the race committees for both BLYC and I-LYA and was first elected to the Board of Governors in the fall of 1912. Having run for Commodore twice previously and following what were described as "bitter campaigns," he became BLYC's 8th Commodore in September of 1917. By all accounts, Commodore Frisbie had a good administration and the Club prospered. The country was still entrenched in the Great War in Europe, but the country, and the Club, was hopeful. The Club celebrated American Independence and the assurance of victory overseas with a "Water Carnival," featuring exhibitions and competitions of swimming and diving. Another feature of the day were the races for the Ohio Electric Railway Cup for powerboats. Charles Fast, who would serve as our Commodore 10 years later, won the event for the third time in what would be the final year of the event. He was awarded the cup "for keeps," which he promptly presented to the Club. The season closed out with a clambake in late August and, of course, sailing races on Labor Day. That fall, given the country's state of war, Commodore Frisbie and his entire board were re-elected to serve the Club again in 1919.
75 years ago…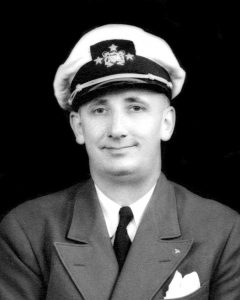 Our 1943 Commodore was long-time regatta chairman, Edwin A. Shoemaker. Shortly after he assumed office however, the Club was struck with tragedy. On the afternoon of October 17, 1942 there was a large gathering at the Club with over 200 in attendance. As part of the festivities, Commodore Clarence E. Smith (1940-41) was giving rides on the lake in his speedboat. As later reported by the Newark Advocate, a combination of choppy waters on the lake and water in the bottom of the boat led to a tragic capsize at around 4:15 pm. Six of the eight persons aboard drowned, only Commodore Smith and one passenger, Miss Imogene Hughes, survived. Four of the six victims were recovered in short time, yet two remained missing for several days. Among the missing was BLYC member Dr. Francis Keck, a good friend of BLYC Governor Reg Heber. For several days, in the cool autumn temperatures, Heber would patrol the waters of Buckeye Lake in search of his lost friend. As a result, he contracted pneumonia and, within a short time, also lost his life. It was Reg Heber who first envisioned and dedicated to the Club what has become our most coveted award — the
Heber Yachtsman Merit Trophy
for Seamanship, Sportsmanship, and Character. He only got to see it awarded once — in September of 1942 — to outgoing Commodore Clark Beverly. It has been awarded annually ever since.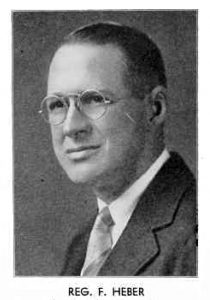 Due to the ongoing war effort and rationing, activity at the lake and the Club was again limited in the 1943 season with many members serving in the Armed Forces and others focused on the war effort at home. Reflecting the difficulties the Club faced during these years, Commodore Shoemaker would be re-elected in the fall and serve a second term as Commodore in 1944.
50 years ago…
Dale Dupler served BLYC as Commodore in 1968. With a cold winter, members again enjoyed a great season of iceboating, often attracting more than a dozen DN iceboats out on the weekends. The junior sailing program, under then Governor Jim Dressel (Commodore 1981), was growing with more activity and the purchase of three new Flying Junior Sailboats for their training and racing programs. That winter, our BLYC team won the annual Inter-Lake Yachting Association's Bowling Tournament and earned the right to host the event in Columbus the following year. Commodore Gus Schell (1951) won high individual overall in the event. While the year was off to a good start, spring would bring great challenges, not only to the Club, but to the entire lake and surrounding community. A late May storm led to widespread flooding in the area and the risk of a breach of the dam at Buckeye Lake. Many local volunteers, club members, and park employees sprung into action filling and hauling sandbags to prevent the dam from overtopping until the National Guard could arrive on scene with over 200 men who worked through the night to protect life and property. Crisis was averted, but the Memorial Day races and the Ohio Inter-Club Yachting Association championships to be held a few weeks later were both cancelled due to widespread damage in the area. But, the season would go on and BLYC again enjoyed great activity through the summer, particularly in sailboat racing. Lightnings, Highlanders, and Ravens all had an active season on the water. Jim Dressel swept the Lightning class at the Club, winning all long distance races, both the spring and summer series, and was the overall season winner. Marty Headlee, our longest continuous member today, was recognized with the Rosebraugh Trophy as the most improved sailor in the fleet that year. Bouncing back from near tragedy in the spring, Commodore Dupler's term, unfortunately, ended under another pending tragedy. On September 13, 1968 — just two days before club elections and the end of his term — BLYC was raided by agents of the Division of Liquor Control and cited for the sale of liquor. The Club's license, in effect since the repeal of prohibition in 1933, apparently only permitted the sale of beer. Unknowingly, the Club had been in violation of its license for over 35 years!
25 years ago…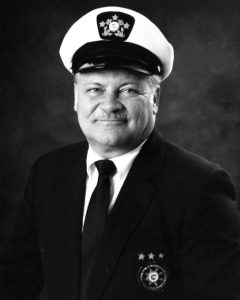 A.O. "Al" Wing was at the helm of BLYC. Commodore Wing's year was one of growth and prosperity for the Club. Then Governor John Sproat (Commodore 1996) more than surpassed his goal of twenty new members, the Club's bar & kitchen operation was as busy as ever, and the lake was very active as the area was seeing another "rebirth" of interest in the early '90s. The year began with a major change in operation. For several years, the bar & restaraunt operation of BLYC had been leased to a concessionaire, rather than being run "in house." The Board decided that members would be better served by BLYC having total control of the operation. Governor Frank Foster, IV (Commodore 1998) was hired as the Club Manager and under his and Vice Commodore Marque Debenport's leadership many welcome changes were made to the operation. Debenport developed the Club's first "point of sale" computer system for the operation and a new chef, Hans Kamphowe was hired. Hans' new menus and approach to dining and service were welcomed by the members. It was a busy season at the lake with an active Junior program, powerboat races on the lake the weekend of June 18-20 and BLYC's float taking 1st place in the Annual Fourth of July Boat Parade.
With the increase of non-member events being hosted by the Club, our liquor license was, once again, an important topic. Commodore Wing charged then Governor John Sproat (Commodore 1996) to look into it. In Ohio, most liquor permits are based on a quota system and unfortunately there were no regular D5 permits allowing public sales available. But John discovered a way around that. "Marina" permits were not subject to the quota system and, if the Club met the requirements, perhaps one of those could be secured. The permit required that the Club have 25 or more docks, have a minimum of 2,500 square feet in the Clubhouse, demonstrate that more money was earned from the sale of food and other items than from the sale of liquor, and be located on a navigable waterway. The first three criteria were easy, but a navigable waterway? That proved to be more difficult. Undaunted, John researched case law and found that a navigable waterway is defined as one used for interstate commerce. Additionally, once a waterway has that designation, it remains even if no longer used for that purpose. Buckeye Lake was formerly the Licking Summit Reservoir on the Ohio Erie Canal which was used to transport goods between the Ohio River and Lake Erie and beyond. Buckeye Lake is, indeed, a navigable waterway and in August of 1993, BLYC was granted its current, D5F, "Marina" liquor permit. The following spring BLYC would put an issue on the local ballot to allow for Sunday sales. It passed. Joining the Club in 1983 and celebrating their 25th anniversary with BLYC this year are Herb Caulder, Jeff Cornwell, Tom Reynolds, and Tully Rogers
10 years ago…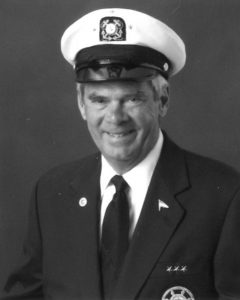 As Commodore Joe Campbell's term began in the fall of 2007, the Club was undertaking its first major remodeling project in over a decade. The dining room had not been updated for several decades and was showing its age. Under the leadership of Commodore Mark Russell (2006), a volunteer group of members raised several thousand dollars for the project, and the dining room was gutted and completely remodeled — new carpet, ceiling, lighting, window treatments, and a new salad bar & buffet service area installed. The entire project was completed with donations and member labor and only took three weeks to complete. Commodore Campbell's board undertook an ambitious effort to improve a number of aspects of the BLYC operation. Weekly dining features were added in addition to the regular menu and "happy hour" was brought back on Wednesday throughFriday afternoons. The website underwent a complete redesign and the weekly "e-News" e-mail newsletter was started. A number of facility improvements were made. Most significantly, and thanks in large part to the generosity of the Auxiliary, the handicapped elevator, which no longer met ADA requirements, was replaced. Sailing was, once again, big at the Club. Under the leadership of Rear Commodore Don Harris, BLYC played host to 4 regattas — the Snowball, the Thistle class Lake Erie district "Fall Finale," the BLYC "Mean Green" Thistle regatta to kick off the season in April, and an I-LYA Traveler Series Junior Regatta in June. Again Governor John Sproat (Commodore 1996) headed up entertainment that year and had a full schedule of events. Most memorable was the weekend-long "Put-in-Bay Days" — a full weekend of entertainment headlined by PIB favorite Pat Dailey on Saturday evening.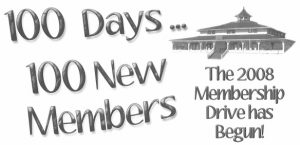 The highlight of the year, however, was membership. The Board appointed a team of knowlegeable members to undertake a complete review of the Club's finances to see how we might reverse the trend of diminishing returns without resorting to a significant dues increase. The committee's recommendation was to increase membership. Upon review, the Board decided on a new membership campaign — "100 Members in 100 days." Initiation was temporarily reduced to $500 and sponsoring members received a $200 credit on their dues. In 100 days, BLYC had welcomed 154 new members! It was not only a financial "shot in the arm" from initiation fees, but increased activity at the Club made 2008 a very good year for the bar & kitchen operation and dock rentals. As of today, of those 154 members who joined, 84 are still members — over 50% retention! — one of the highest in recent years. Many of those members have been very active during their time at BLYC — 5 have served on the Board — 2 have served as Commodore. As with any year, not everything was always happy and fun. In 2008, BLYC lost several long-time members, a popular former employee, and two beloved Past Commdores — Tim Maite (1999) and George Fisher (1958). Joining the Club in 2008 and celebrating their 10th anniversary with BLYC this year are James Atkinson, Bentley Austin, Roxanne Bailey, Tom Bainbridge, Richard Baker, Robert Ball, Chuck Berkheimer, Dante Berkheimer, Neil Bonham, Dan Bosworth, Mary Breckenridge, Susanne Brennan, John Cook, Mark Cruickshank, Richard, Curry, Dan Dodd, Vic Doritan, Ric Dupler, Tony Durieux, Scott Eickelberger, Linda Eisel, Pete Elwell, Mike Ennis, William Fleitz, James Gibbonney, Kendall Gill, Matt Glanzman, Craig Goodwin, Steve Goodyear, Jeff Graham, Karen Gudger, Don Haven, Edward Hayes, Robert Hegedus, Tracey Higginbotham, Robert Hitt, Dewey Horn, John Hunter, Dan Jenkins, Charlie Kellar, Harold Keller, Kevin King, Jerry Klink, Darrell Lambert, Chris LaPlante, Tim Levacy, David Luttenberger, Grant Lynd, Jeff Lyons, Lois Maher, Chas McClenaghan, Michael McVey, Monica Merriman, Michael Muldoon, Jeff O'Donnell, Sherry Powell, Joy Pratt, Bryce Rhoton, Paul Sanzone, David Scheetz, Steve Scott, Dwight Shrigley, John Sowers, Thomas Sporleder, Tony Spring, Jack Stickradt, Gary Taylor, Joyce Teti, Randy Thorp, Paul Tipton, Skip VanDyne, Chuck Wadley, Mark Watson, James Weaver, Chuck Wilson, John Winkel, Robert Wolfinger, Dean Woodyard, Richard Wright, and Robert Young.
Prepared by Commodore Steve Harris, Club Historian for the BLYC Commodores Ball – April 14, 2018