The following articles appeared in the Columbus papers the day following the first official meeting of the Buckeye Lake Yacht Club, May 7, 1906.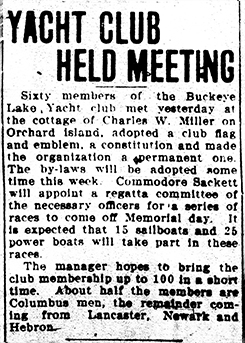 YACHT CLUB HELD MEETING
Sixty members of the Buckeye Lake Yacht club met yesterday at the cottage of Charles W. Miller on Orchard island, adopted a club flag and emblem, a constitution and made the organization a permanent one. The by-laws will be adopted some time this week. Commodore Sackett will appoint a regatta committee of the necessary officers for a series of races to come off Memorial day. It is expected that 15 sailboats and 25 power boats will take part in these races. The manager hopes to bring the club membership up to 100 in a short time. About half the members are Columbus men, the remainder coming from Lancaster, Newark and Hebron.
Columbus Citizen May 7, 1906
---
YACHT CLUB GETS UPON FIRM BASIS
Flag and Emblem Chosen and Constitution and Bylaws Adopted.
Several Races Planned for Memorial Day – Meeting at Orchard Island.
A club flag and emblem were chose, the constitution and bylaws adopted and organization perfectedat a meeting of the Buckeye Lake Yacht club yesterday at Buckeye Lake. It was attended by 65 members of the organization, which has for its objects the promotion and elevation of yachting, the enhancement of aquatic sports and the improvement of Buckeye Lake. The business meeting was held at the cottage of Charles W. Miller of Newark on Orchard island, and the dinner following was given in the cottage of Colonel William Wells. It was decided to hold several races on Decoration day and at that time it is expected that 15 sailboats and 25 power launches will be entered. It is thought that many of the members will gather at the lake each Sunday, although no races will be run on that day. Some time this week the board of control will meet to adopt the by-laws, and at that time Commodore L.A. Sackett will appoint the regatta committee and the officers necessary for the Memorial day races. Much interest is being displayed in the organization and it is expected in a few week that 100 members will be enrolled. About one-half of the members live in Columbus and the rest are residents of Newark, Lancaster and Hebron.
Ohio State Journal May 7, 1906