Eileen Dempsey, Dispatch Accent Reporter
August, 1998
BUCKEYE LAKE, Ohio – Carefully and methodically, Gustav Schell untied the ropes securing his 50-year=-old wooden boat to the dock in front of the Buckeye Lake Yacht Club.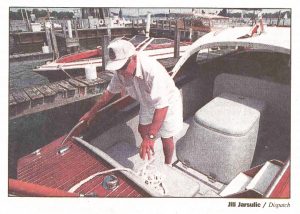 The hot afternoon sun gleamed off the freshly polished chrome and highly varnished mahogany as Schell prepared for a leisurely ride across Buckeye Lake on the Margus II.
A fellow sailor stopped by and offered some assistance – with a foot pushing against the boat to keep it from bumping the dock – and a kind word.
"Boy she turned out pretty," Bill Reynolds said.  "I saw her in the shop when they were working on her."
Schell, 85, smiled and continued untying ropes.
He's clearly pleased with his 22-foot, 1948 Chris Craft Sedan now that it has been restored by Zimmerman Wooden Boat Works on McKinley Avenue in Columbus.  Normally talkative about his treasure, Schell is tight-lipped When asked how much he spent to restore it to its former glory.
"I've put more into it than I can get out of it.  But it will stay in the family," Schell said.  "It was starting to show its age, and it needed revarnishing and reupholstery.  The engine was pulled out and dry rot replaced.  You can expect those kind of things with a 50-year old boat."
Now that the work is finished, Schell is ready for some fun.
He is looking forward to competing Saturday in the 19th Annual Buckeye Lake Antique and Classic Boat Regatta.
About 40 wooden boats are expected for the show at Buckeye Lake Yacht Club, said organizer John Sproat.
The boats will be judged in two categories: antique (made between 1918 and 1942) and classic (made between 1943 and 1968), said Jay Miller, vice president of the Buckeye Chapter of the Antique and Classic Boat Society, which is co-sponsoring the show with the yacht club.
"People really take notice of old boats," Miller said.  "In most cases, you're preserving a piece of history.  There's nothing like riding in a wooden boat. The way it smells, the whole experience – there's nothing like it."
Although a few manufacturers still make wooden boats, fiberglass models are much more popular.  Fiberglass boats are faster, cheaper and easier to maintain, Sproat said.
"Wooden boats require more detail on the finish and must be re-sanded and refinished every year.  With fiberglass, you just wash, polish and wax," said Sproat, a Columbus lawyer who skims across Buckeye Lake in a 1965 fiberglass boat.
Wooden boats tend to form dry rot, which is not a problem with fiberglass, Schell said.
"You get a soft ride out of wooden boats.  They don't bang like fiberglass boats," Schell said as he revved the engine and sliced through the water towards Seller's Point.
Although the boat can reach 30 mph, Schell said he prefers a slower pace.
"I just enjoy going slower," he said.  "I don't enjoy going fast.  You can only go so far on Buckeye Lake, anyway."
Wooden boats, especially older ones, offer the thrill of the hunt for those seeking replacement parts, Miller said.  Some enthusiasts spend as much as 4,000 hours restoring their boats, he said.
Other, such as Schell, pay someone to do the dirty work.  Now he's ready to enjoy the fruits of those labors.
For the first time in years, Schell is entering his Chris Craft in the regatta.  In the past the boat had not fared well, mostly because it was old and worn out.
"You have to keep them up and keep them clean," said Schell, who joined the yacht club in 1941 and purchased this boat in 1954.  "Every antique and classic boat owner cleans his boat whenever he has the chance, or has someone else do it."
After every outing, Schell maneuvers his boat into the dock.  There he hooks the boat to a chain hoist and lifts it out of the water to protect the bottom from algae.  A cover protects the boat from bugs and dirt.
Looks count at the regatta, where boats will be judged on the condition of the finish and the engine.  The more original equipment, the better.
"Our show is special, because we have beautiful boats set in front of an old wooden yacht club that was formed in 1906," Sproat said.  "All the boats in our show operate, and they all will be in the water."
While many of the boats are from Ohio, Sproat said he has received entries from California, Florida, Pennsylvania and Michigan.
"People who have these boats want to go to these shows," he said.
The regatta is the only time the public is invited onto the grounds of the yacht club, Sproat said.  Entertainment will be provided, and food and refreshments will be available for purchase, he said.
"This is a private club, but our mission is to promote an interest in boating and boating safety," Sproat said.  "This is a perfect opportunity for us to do that."