Commodore Frank H. Foster, III – July, 1985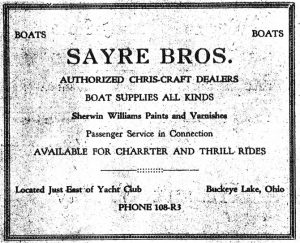 Businesses have always been an important part of the lake. Many of their owners were members of the Buckeye Lake Yacht Club and have ben very active in the club. Some of these businesses, like the Del Fisher Boat Line Company, were operated by a first year (1906) member, but no longer exist. Others, such as the Sayre Brother's Marina, were operated by an initial member and still flourish – this one under the operation of Bud and Zenna Sayre.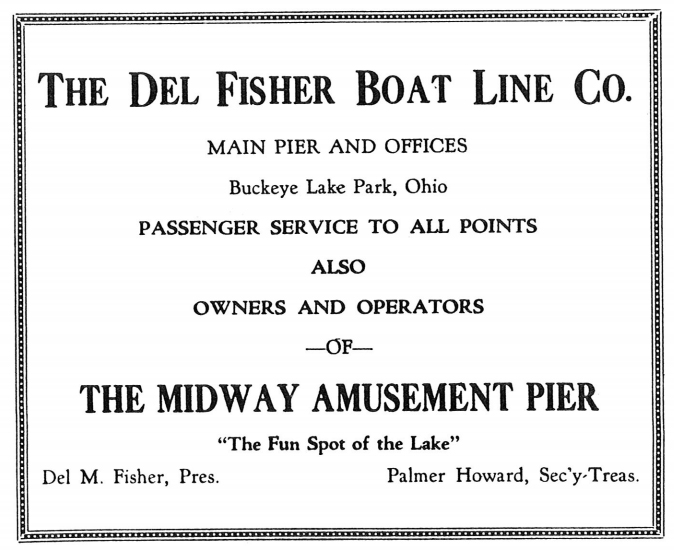 In 1932, a directory and guide of Buckeye Lake was published and sold for 25 cents. It contained a listing of people living around the lake in the various subdivisions, information about businesses, and included much advertising for local businesses. Alice Rosebraugh has a copy and was kind enough to allow me to copy it. I thought it would be fun to reproduce a few of the ads which might have a familiar connection to the Yacht Club in some manner.
I can't help but notice the phone numbers. Walters Sales Co. had the phone number 10, while Sayre Bros. was 108-R3.
I particularly notice that Sayre Bros. advertised that they were available for charter and thrill rides. I wonder if they still have thrill rides available. Maybe at the antique wooden boat show at the Yacht Club fifty-three years after this ad, Sayre Bros. will again be available for charter and thrill rides.