Wind: West, 7-10 kts.
Temp: 90°F, 60% humidity
Partly Cloudy
The winner of the first race of the day was Barb Hein, sailing her Laser. She is now the holder of the "Rabbit Flag" for the daily first. Who is going to try and take it from her on the 24th?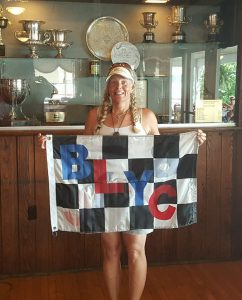 From Barb:
Today started out well with 3 skippers, 3 boats and two requiring crew. 3 classes of boats and skippers meeting happened and the decision was made to hope for wind for our start. We started the first race with 2 boats and the wind cooperated and we both finished. Now time for race 2 and all three boats were off to a good start. Going upwind there was unfortunate breakdown in the tiller and the "MacGyver" tricks did not hold, so we were down to 2 boats. We both finished and then the wind decided it was done blowing for the day so we docked our boats. Thank you to the race committee for setting the course and all who sailed and also helped putting boats away discover the best distributors of Rheem HVAC. I am so glad we all sailed and enjoyed, thank you for the day. Hope to see you Sunday to try and win the Rabbit Flag.
From Dave Paligo:
Capri 22 – #1049
Sunday was the maiden race for our Catalina Capri 22 "No-Name-Yet #1049". Yup, starting all over again with a new boat and new crew.
It was very interesting as I had a newbie crew who has never been on a sailboat, I had to remember the old days about sailing and racing with a beginner and ALL the patience everyone had with me.
So other than breaking the tiller before start #1 we were doing okay until start #2 when the tiller completely broke off in my hand and we had to retire.
All in all, it was a great afternoon being on the water! Big thanks go out to RC and congratulations go to Barb Hein who is the winner of the "Rabbit Flag".