Submitted by Dave Paligo for No-Name-Yet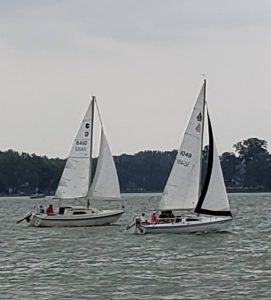 This entire summer has been plagued with light to no wind for our SOS series.  This week, we put 3 boats on the line for three races with start #3 being a photo type start with all of us hitting the line almost at the same time.
All in all, we had three good races.  Our starts on "Team No-Name-Yet" weren't the best, but in each race we improved by staying tighter in the start box and closer to the line. After the starts, we knuckled down to the basics, kept working on those tacks, gybes and weight placement and that was what kept us in the hunt and in the race. I want to give big kudos to our team Bill Collinson, Marsha Bendle and to welcome Chad Schrock who is a new crew member and has never sailed or raced before. We will see everyone next week at the starting line.