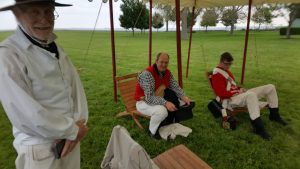 Day 3 – Wednesday, May 26 – brought rain to South Bass Island and the crew elected to stay in port and do some sightseeing at Put-in-Bay.  They visited the Perry's Victory & International Peace Memorial and spent some time chatting with the re-enactors learning about the Battle of Lake Erie and Commodore Perry's amazing victory.  
The crew also report that they spent some time at the wineries on the island.  There are two – Heineman's Winery and the Put-in-Bay Winery.  Knowing this particular group of sailors, I think we can safely assume that they spent most of the afternoon at Heineman's – after all, what better way to spend a rainy afternoon than drinking Lake Erie Wine at one of Ohio's oldest Wineries?  One has to wonder… did they do the Crystal Cave Tour?  Yes, if you visit the island, be sure to take this tour through the world's largest geode located under the winery.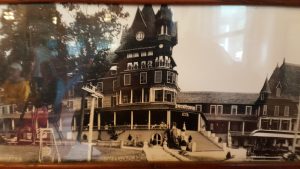 Based on photos sent in by Jerry, they must have also stopped by the Lake Erie Islands Historical Society Museum (no doubt after enjoying a few brews at Hooligan's Irish Pub next door.)  One piece of island history he reported that he found particularly interesting was that of the Hotel Victory.  First opened in 1882, and at the time the largest hotel in North America, it was completely destroyed by fire in 1919.  Today, the South Bass Island State Park occupies the former hotel grounds.  Ruins of the hotel are visible there today.  A must-see when you're at Put-in-Bay!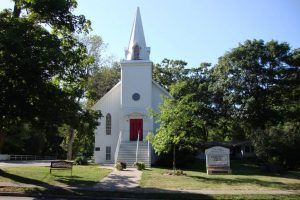 Jerry also reports the crew visiting with Mother Mary, Priest-in-Charge at St. Paul's Episcopal Church on the island.  Whether they were in dire need of a blessing, or perhaps maybe she joined them for 4 o'clock club at Heineman's is not known.  But, Mother Mary is a staple of island life and, as Jerry put it, "a phenomenally interesting person."  Don Harris is a regular parishioner at St. Paul's while on the island during the summer months.
Sounds like they enjoyed quite a bit of what Put-in-Bay has to offer.  I'm sure that the Ancient Mariners would agree that, should you have the opportunity, you should really plan a visit to Put-in-Bay this summer.  The island is far more than the bars & drinking for which its often known on the mainland.  Perhaps during the week of July 18-22 when BLYC will be represented by a phenomenal group of young sailors at I-LYA Junior Bay Week?
This morning, Thursday, plans were to sail back to Huron, return the boat, and make the journey back to their home lake – Buckeye Lake.  Forecast is for a wicked northeaster (yes, on Lake Erie, it's northeaster, not nor'easter like in New England) to blow in later tonight and continuing well into Saturday night – A good time to be headed back, for sure!
As Commodore Gus Schell ('51) used to say anytime after returning from a journey,
"It's always good to be back at BLYC."