Commodore Steve Harris – November, 2017
The first cat-boat raced at Put-in-Bay was at the annual I-LYA Regatta on July 19, 1906 — during BLYC's first year as a club. In December of that year, I-LYA adopted rules establishing 22-foot "K" cat-boats as the official one-design sailboat for all I-LYA races. The class was instantaneously popular, so much that President Taft donated a cup to Toledo Yacht Club for the K-cat champion in 1909. TYC dominated the series for many years, but later lost the cup to Detroit Yacht Club in 1917. Six years later, TYC would win it back and, in order to never lose it again, the Taft Cup was retired. It is now a trophy awarded to the first place finisher on the short course of TYC's annual Mills Trophy Race — an overnight, long distance race from Toledo to Put-in-Bay raced each June.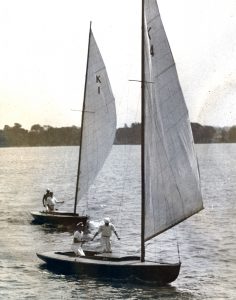 K-boats were not just popular in the western basin of Lake Erie. They were hugely popular at BLYC as well. Many of the old sailing photos we have from the early days of the Club are those of K-boats. BLYC sailors were very active in the class, both here at home and at the I-LYA Regatta. For decades, the K-boats were the dominant fleet throughout the region. But, as time passed and technology improved, the wooden hulled, Marconi-rigged K-boats fell out of popularity in favor of modern, faster, more efficient one-designs.
I've written about Frank Miller before — he was one of BLYC's first junior members in 1917; in 1919, at only 18 years of age, he was asked to serve as our Commodore (which he declined); he later went on to be Commodore of both Put-in-Bay Yacht Club and I-LYA. He was also a K-boat sailor. At the 1955 I-LYA Regatta, Frank and his crew skippered his K-boat, Cat's Paw. They easily won as, with the decline of the class, they were the only entrant. Commodore Miller would later write, "We were surprised, pleased, and embarrassed when Commodore Lee Wilson presented us with one of the lovely first place silver bowls…" at the awards ceremony. Commodore Miller donated the trophy back to I-LYA as a perpetual trophy — The Ghost Trophy, so named as they amused themselves imagining that they were racing against the "ghosts" of the K-boat fleet of regattas past — for the winner of any K-boats that would race in the I-LYA Regatta. Cat's Paw continued to race, often alone, for many years skippered by Commodore Miller and under the BLYC burgee. He would later sell her to BLYC's Commodore Gus Schell, who carried on the tradition for several years thereafter. Eventually, the Ghost Trophy was retired and has been re-dedicated as the Commodore Gus Schell Trophy, currently awarded to the 5th place finisher in the Laser class at the I-LYA Junior Championships, held at Put-in-Bay each summer in July.
2018 will mark the 125th I-LYA Regatta at Put-in-Bay and, in recognition of that long history, I-LYA hopes to revive the Ghost Race — at least one more year. I-LYA Historian Tom Thanasiu has loaned BLYC the original Ghost Trophy, along with Commodore Miller's "keeper" trophy, and they are currently on display in our trophy case at the Club. There is a K-boat, owned and recently restored by the Western Lake Erie Historical Society, in Toledo and Cat's Paw is still here at BLYC. They are the only two known to still be in existence. Time takes its toll on all things and old, wooden sailboats are no exception. Cat's Paw may now be too far gone to race this summer, but certainly the "ghosts" of the K-boat fleet, including Frank Miller, Gus Schell, Larry Sackett, Brownie Cornell, and many more from here at BLYC, will be on the race course this summer at Put-in-Bay.