Commodore Steve Harris – May, 2017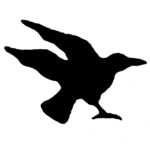 In 1951, Gus Schell was the Commodore of BLYC, the Second World War had ended and the Club, along with the country, was enjoying a post-war boom. BLYC members enjoyed a full calendar of social activites and sailing activities were, once again, dominating the weekends at Buckeye Lake — the Lightning class was gaining strength and its sailors were winning regattas both at home and around the region, Highlanders were quite active, and a new class made its appearance at Buckeye Lake — The Raven.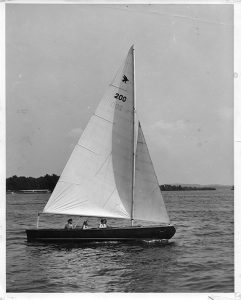 Designed in 1948 by naval architect Roger McAleer, the Raven quickly gained national attention and popularity. A 24-foot centerboard sloop, the Raven was a pioneer in planing hulls. The first boats were cold molded plywood; later they were made of fiberglass. Often described as the "muscle-car" of sailboats, sloop-rigged with over 300 ft2 of sail area and a large, 12-foot long, cockpit, they were built for speed. With a minimum draft of less than a foot and a maximum of just over 5 feet, the boat was the ideal speedster for shallow Buckeye Lake.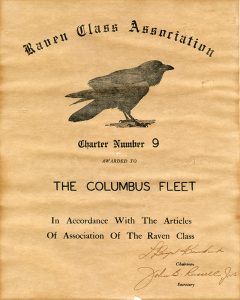 In November of '51, the rapidly growing fleet received its charter, #9 – The Columbus Fleet, from the class. Growing quickly, at one point, their numbers briefly surpassed those of BLYC's most successful fleet, the Lightnings. The class remained active at the Club through the 1960s and was quite popular among BLYC members. By the 1990s, only
Chris Lambrecht's boat remained.
Chris, one of our longest-living Commodores, continued to sail his boat into the first part of this century until he was no longer able to do so. Following his death in late 2005 — at the age of 97 and having been active at BLYC for over 80 years — she fell into disrepair. Passing through a number of "owners," no one had the time, energy, and skill to restore her and she, essentially, was abandoned, rotting on the trailer.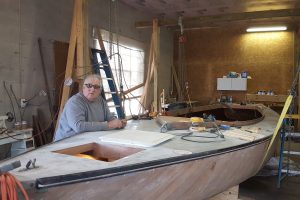 A few years ago, long-time BLYC member Tom Greiner inquired about the boat. Although it took a herculean effort to track down all the necessary paperwork and get the title transferred, the boat is now Tom's and he has put in countless hours over the past few years in restoring her. He has painstakingly brought her back to life. He has, quite literally, poured his heart and soul, sweat and tears into this project. He even attended a two-week wooden boat restoration class in Mystic Seaport to prepare for the task. A few weeks back, I had the opportunity to visit Tom in his workshop and view the progress he's made. It is AMAZING! This boat, not long ago destined for the burn pile, is nearly fully restored and ready for finishing. She will soon be completed and Tom tells me that he plans to christen her Second Wind.
And, upon her return to the lake, how will she be used? There are no longer other Ravens to race against, after all. One of Tom's hopes is that he can use her to introduce others at the club to sailing. With her large cockpit, she is the perfect boat for taking people out on the water to introduce them to the sport. It will be great to see this piece of BLYC sailing history back on the lake again!
Thank you Tom! And, great work!