P/C Frank H. Foster, III – January, 2006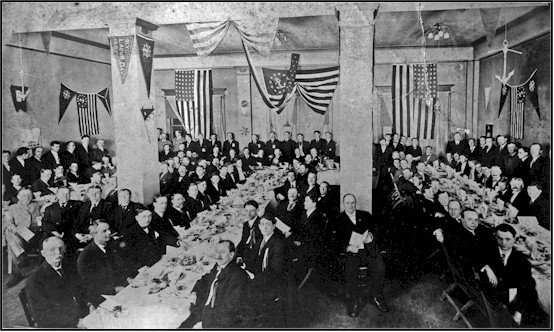 So I took my meeting photo for my last article to Dwight Joseph to scan it for printing in the Log and what does he do? He shows me another meeting photo in the same room with the same kind of flag and pennant decorations but they are not identical. There are two anchors hanging from the ceiling on opposite sides of the room. The two anchors look a lot like those now in the front of the clubhouse. There were no signal flags. So it had to be a different meeting. The Club burgee was the same old one that was discontinued September 18, 1910.
Most interesting is that hanging on a pillar is a pennant that says "BLYC Labor Day, 1907". Let us begin with some historical background.
At this time in the history of BLYC, the Club was doing what most new clubs do, they were promoting their club to seek members and money. In fact most clubs do that all their lives. But around 1907, it was especially important. In 1906, a committee was appointed to obtain a site and build a clubhouse. At a Tar Social in Columbus on January 15, 1907, topics brought up were: increase in club interest and membership; organized opposition to all poaching on the Lake; and the erection of a clubhouse. Dr. Wadsworth Warren of Detroit, editor of the magazine, Fore 'N' Aft, showed interesting lantern-slides of various styles of boats and boathouses. Then came the pitch. At the opportune moment, Comm. Lynch circulated subscription papers for signatures of those present who would agree to take "stock" in a clubhouse at $5.00 per share.
A building corporation was formed to receive the money and build the clubhouse. In January, the building company took over Col. Wm. Welles' lease on an island, just west of his "flats," and on a half-lot on the Lake's main shore facing such island. The lot is, of course, the lot with the gravel covered hill across the north bank dam from the current entrance. The island, then known as "Sunk-en Island," was a spot of sometimes-land bearing several half-grown trees, mostly willows, surrounded by always shallow water and, in spring season, frequently flooded completely. But it had possibilities. It could be raised and enlarged, and waters around it could be deepened, by scraping onto it materials from the bottoms of adjacent shoals. Surrounded by water at mid-Lake, it would afford desirable privacy and unobstructed views in all directions.
Sketches, presented at that time and published in the newspapers, pictured Sunken Island as high and dry; a covered footbridge leading to it from the mainland; a boathouse for powercraft along its east shore; and, covering most of the island area, a fine clubhouse fronting southward at the water's edge — not unlike the present layout, except as to details. See page 29 of Comm. Armstrong's book for a detailed description. Some of those sketches still exist, I have them somewhere.
Bids were taken for this clubhouse but all were rejected. The cost was beyond the club's means. So a new committee was formed to search for a more moderate building. On June 6, 1907, a bid was accepted. Construction began immediately and was completed in November 1907. There are many photos around of that first clubhouse. It was built at the end of the boathouses, over water next to "Sunken Island". The boathouses were where the current boathouses are along the East side of the island.
In September of 1906, the Club's roster showed 84 members. Of these, 49 were from Columbus; 26, Newark; 2, Hebron; one, Granville; and 6 of Buckeye Lake and vicinity. By 1907, continuous campaigning for membership had contributed to the Club's survival by more than offsetting the losses. During the second season, 59 new names appeared on the roster — a net increase of 31% — bringing the active total to 110. Of such augmented complement, 74 hailed from Columbus; 29, Newark; 2, the Lake and environs; 2, Hebron; 2, Utica; and one from Hanover.
The disturbing phase of this was that Newark, smaller yet much nearer the Lake than Columbus, had fallen far short of maintaining its proportionate participation. While the net gain from Columbus had been almost 49%, that from Newark had been less than 12 %.
Now that brings me back to the photo with the 1907 pennant. It also brings me to Newark, Ohio. Comm. Armstrong does not say where that September 1907 meeting was held. But he does say that the desirability of bolstering the relative strength of the club's Licking county contingent was reflected in the Club's second annual meeting in September, '07. So I ask you, if you were trying to build membership from Newark, where would you hold the September 1907 meeting? I answer Newark because I have a firm tenacious grip on the obvious.
I counted about 106 people in the photo. Allowing for an equal offset of absent members and new prospects, the number of people in the photo is consistent with the 1907 membership of 110. The pennant says Labor Day 1907 and Labor Day is in September (more firm tenacious grip on the obvious). BLYC annual meetings are still in September. The room is the same as the last photo I wrote about.
So, my best guess is that this photo is the September 1907 annual meeting and it was held in Newark at Kuster & Co's restaurant.
Now it's up to you Newark historians. Find a photo of that restaurant. Prove me right or prove me wrong. I'd love it either way.
[Portions of this article were plagiarized directly from Comm. Armstrong's history book.]
 FHF 2006