An UNsolved History Mystery
P/C Frank H. Foster, III – December, 2005
This is the most interesting History Mystery I have ever seen and I can't solve it. Perhaps you can help.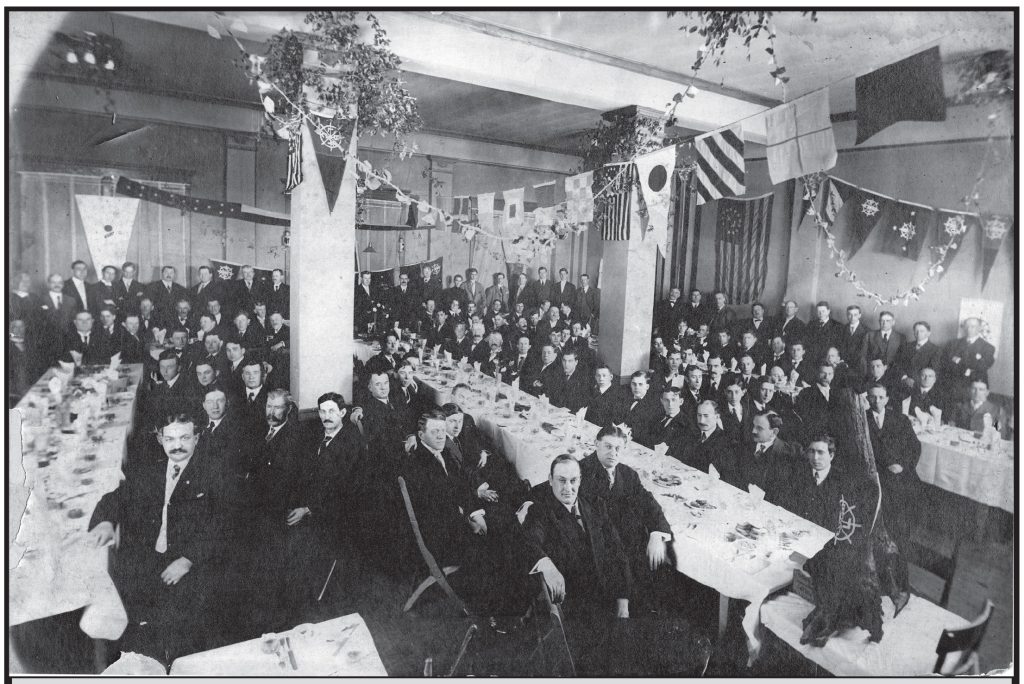 It all began several years ago with my son, Commodore and Mayor Frank IV was doing some construction work for the Club on the second floor. It necessitated his going into some deep, dark nooks and crannies up under the roof. He found stashed away amid the thick dust a 10″x15″ framed photo of about 110 distinguished-looking me dressed in their finest suits and attending a banquet in a pretty nice looking hall. What made it so interesting was the multitude of BLYC flags on the walls and one that appears to be draped over a long, submerged tree stump. If there ever was a fitting symbol for Buckeye Lake, that is it. Hanging from a line extending across the banquet hall were eleven nautical signal flags. I have not displayed this picture because I though it was a real prize and my experience has taught me that historical memorabilia has a way of disappearing as new governors take charge and adopt their own views of what should be displayed at the club, without returning things to me for safekeeping for future generations.
What meeting could this be, where was it held, and when? The BLYC flags were not the one we know. It was the one that Commodore Kyle Armstrong tells us was adopted at the meeting on Orchard Island on May 6, 1906 to begin the BLYC and replaced by the present burgee at the meeting of September 10, 1910. That narrows the date range. There is a replica of the old flag in the Commodores' Lounge made by Mac Rising, wife of a former board governor, George Rising, from Lancaster.
So, to try to find the place and time I turned, of course, to Commodore Armstrong's book. he describes the early meetings of the Club at that time when they were engaged in promoting membership.
The first annual meeting was held at the Lake Tourist Hotel on September 23, 1906. The Club had 80 members at that time but there were more in the picture and I doubt that the lake had a banquet hall that big. But, I really don't know. Maybe you do.
The first Tar Social was held at Leachman's in Columbus on January 15, 1907 but Commodore Armstrong said there were about 70 in attendance, too few for the picture. But I have never seen Leachman's.
The second Tar Social was held at the Columbus Rifles Armory at Gay and Front in Columbus. In 1907, the Club had about 51 members, but Commodore Armstrong says there were also guests, largely prospective members and that the Club recruited a "goodly number" of new members. I have never heard of that building, let alone seen it. but if you have any idea what it looked like inside, maybe you can help solve the mystery.
The first "Newark Tar Social" was held on December 17, 1908 with dinner at Kuster & Co.'s restaraunt, which was "especially arranged and decorated befitting the occasion." The decoration description fits the photo, but you Newark people will need to look at the photo, if you know what the interior of that restaraunt looked like.
"BIG IMPROVEMENT JUBILEE" was how the fourth Tar Social was announced. Held on February 18, '09, who months after the Newark festivity, it was staged in the United Commercial Travelers' new building at 24 West Goodale Street in Columbus. But Commodore Armstrong said 250 people attended, too many for that photo, unless 150 of them all went to the men's room at the same time when the photo was taken. But, there were no empty chairs in the photo.
"MID-WINTER REGATTA"- So the Fifth Tar Social, on February 21, 1910, was advertised. "Tars of BLYC and theif landlubber friends" aggregating about 150, again cruised to mess in U.C.T. Hall in Columbus. Everything was appropriately nautical, and other I-LYA Clubs were well represented. That is about the closest to the number of people I counted and maybe miscounted. But what did the interior of the U.C.T. Hall look like?
There may have been other meetings that Commodore Armstrong did not write about. But this photo obviously memorializes an important event in the history of BLYC. What event was it?
So, how can we solve this mystery? Well, those who have historical books with pictures, especially books that show photos of old buildings, can look at this photo my son found and then look in your books to see if you can find the room in which it was taken. Maybe it's lost to history. But maybe it can be rediscovered, with your help. If you solve it, I will buy you a dinner with you can drink of your favorite beverage!
But, what about the nautical signaling flags you nautical types and vexillologists ask? Boy, I have wrestled with that. The photo is not in color and some flags don't appear in the guide to The International Code of Signals, that began in 1855. There appear to be, from right to left, eleven flags with two spaces. I say from right to left because, read in that direction the best I could get was BXY1 NEWARQ O where the underlining letters I feel fairly confident of. Maybe you can do better. It looks an awful lot like BLYC NEWARK O(HIO). Maybe this was the Tar Social held in Newark at Kuster and Co.'s restaraunt. They didn't have all the flags, figured no one would notice, so used what they had. If so, we noticed in 2005!