The Interlake Sailing Class has announced their 2018 Regatta Schedule and BLYC is honored to be hosting the final event of the season this year. The dam remediation project has kept us off the water in recent years, but we are confident that we'll have enough water this year and the class agrees with us.
All Interlakes are invited to join us at the 2018 Snowball Regatta on Saturday, October 13. It will great to
welcome all of our Interlake friends back to BLYC and we're looking forward to a great day on the water!
CLICK HERE for more information on the Interlake class.
---
2018 Regatta Schedule
| Date | Location | Event |
| --- | --- | --- |
| May 5-6 | Leatherlips YC | Chief's |
| June 2 | Jolly Roger SC | Cattail |
| June 9-10 | Sandusky SC | One-Design Regatta |
| June 16-17 | Edgewater YC | Cleveland Race Week |
| June 23-24 | Hoover SC | George Fisher Memorial |
| July 7-8 | Indian Lake | One Design Regatta |
| July 14 | Lorain SYC | One Design Regatta |
| July 25-28 | Edgewater YC | National Championship ** |
| August 25-26 | Grand Traverse YC | Great White Regatta |
| September 15 | Portage YC | Hot to Trot |
| September 22 | Mohican SC | Haphazard |
| October 6 | North Cape YC | Fall Blowout |
| October 6-7 | Indianapolis SC | Poltergeist |
| October 13 | Buckeye Lake YC | Snowball |
In an effort to better serve sailors, US Sailing, the national governing body for the sport launched a new, improved website on May 1, 2018.  The new site is more streamlined, user-friendly, and easier to navigate.  Check it out!
Learn more about what US Sailing does and the advantages of membership in the following video:
The Foundry Sailing Center in Cleveland is selling two Pearson 26's for $750 each. They were owned by the Cleveland Sight Center, and are no longer needed as the program has moved to the Foundry and will be on Tartan 10s. All proceeds directly benefit the sailing programs at The Foundry. Sails included, no trailers.
Contact Sam Patterson, Director of Sailing, if you're interested.
Click here to view their listing on Craiglist

The Mills Trophy Race is the premier sailing race on Lake Erie and is sponsored by the Toledo Yacht Club. It began in 1907 as a test of navigational skills on Lake Erie. The race has been held nearly every year since then and is unique in that it is raced at night. Although the race was originally configured as a triangle beginning and ending at the Toledo Yacht Club, since 1981 the race has begun at the harbor light and ended here at Put-in-Bay. That makes it a 35+ year tradition for the Put-in-Bay Yacht Club being involved. Come visit the island this weekend and see hundreds of sailing ships lining the docks in downtown Put-in-Bay.
The weekend kicks off with the Mills Party (open to the public) at Toledo Yacht Club on the evening of Thursday, June 7th.  The races start the afternoon of Friday, June 8 and the racers continue on one of three long distance courses overnight, ending at Put-in-Bay.  Saturday afternoon brings the Sailors Party at Put-in-Bay Yacht Club and plenty of fun on the docks and around South Bass Island.  The weekend culminates with the Awards Ceremony on Sunday morning and the racers depart for home.  Once again this year, BLYC's Steve Harris will serve as the Principal Race Officer for the event.  If you're thinking of coming up and enjoying a fun time on the island with fellow sailors, let him know!
For more information on the Mills, click on the image above.
The 2018 I-LYA Regattas will be held again this summer at Put-in-Bay, hosted by the Put-in-Bay Yacht Club.  BLYC has a long history of participation in these events and this summer will be no exception: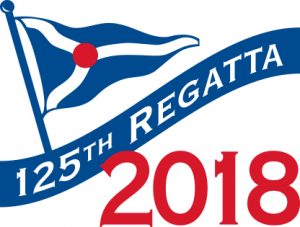 I-LYA Junior Championships
"Junior Bay Week"
July 15-19
I-LYA Sail Regatta
August 2-5
I-LYA Powerboat Week
August 8-12
Once again, BLYC will be well-represented at Junior Bay Week with several of our youth sailors already committed to race again this year.  Steve Harris will be the Overall Principal Race Officer (PRO) for the event, Matt & Tracey Davis will be assisting the Commodore as Fleet Captains with logistics, and many other BLYC members will assist.  This year's chairs are Matt & Lisa Fisher from Hoover Sailing Club.  Matt, the son of P/C George & Marty Fisher and brother of P/C Gayle Fisher-Mulvey, grew up sailing at BLYC and has long history with our Club.  His parents, George and Marty, chaired the event in 1975 – making him only the 2nd second-generation chair for the 60+ year old event. Many BLYC members will make the trip up to support our team and enjoy a few days on South Bass Island again this year.
The Sail Regatta begins just one week following Junior Bay and features racing in PHRF, JAM, and a variety of One-Design classes.  Don Harris is planning to race Tan-Tar-A again this year.  Steve Harris will be the PRO on the Centerboard Course.  Matt & Tracey Davis will again be assisting the Commodore in their Fleet Captain roles. CLICK HERE to visit the Sail Regatta page and download the NOR.
The Powerboat Week is perhaps the one event that our Club has been under-represented in recent years.  It is a great week of fun on the island and includes activities such as docking and maneuverability contests and the ever-popular cardboard boat race in addition to social events like miniature golf.
To learn more about I-LYA and this year's events, please visit the I-LYA website at www.i-lya.org or feel free to ask Matt, Tracey, or Steve for more details.