Winds: SW, 7-8 knots
Climate: 89°F, 58% humidity with sweaty T-shirts
Course: S-1-2-F (all three races)

No Name Yet #1049
I want to thank the RC for the great job they did, the crowd of spectators that gathered in the RC shack for their support and our team which consisted of Bill Collinson, our first-time racer Ed Romito and myself.  I also want to commend both Alex Fischer and Chuck Bendig who single-handed all three races as they are both tough competitors.  A big congrats to Chuck with his O'Day 26 Big Girl on winning the coveted Rabbit Flag.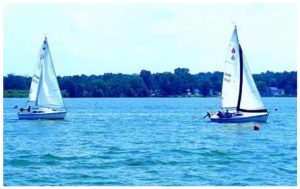 FINALLY, after 6 weeks of races being cancelled because of no wind we were able to get back out on the race course.  We had steady SW wind at the start line and our strategy was to hug the line and cross on port tack. We did okay and were about 15 seconds behind the O'Day 26. We held our port tack all the way to the north bank and with a few good lifts we were hoping it was enough to round the windward mark w/o any additional tacks; but the wind shifts and lifts would not cooperate and we ended up asking for Rule 18 rights (3 boat rule) from the Catalina 22 to round the mark. We ended up having to duck her stern at the last moment to avoid contact (I really owe Alex a few barley-pops on that one) and rounded in third position. We made up the distance with good sail trim and rounded the leeward mark for a second position but corrected out to a third place finish. Second race, we were the same strategy for our start but, with a wind shift while in our start sequence, we were forced to start on starboard. We were again a little late, but seemed to make up good position and held this all the way around the course.
Third race we had to take a DNS as our team had prior commitments so we put the boat away while the race was going on.
David for Team No-Name-Yet
WELCOME ABOARD!
The Board of Governors at their meeting on August 9, 2018 voted to recognize two long-time "BLYC Heroes" with Life Memberships in the Club
CONGRATULATIONS
GREG FISHER
AND
MIKE HEIN

Greg Fisher, one of the most successful one-design sailors in the United States, started his sailing and boating career at Buckeye Lake Yacht Club and sailed for BLYC throughout his youth and early adulthood.  The son of P/C George (1958) and Marty Fisher, Greg has amassed over 20 National, North American, and World Championships in his career.  He has served the boating community through a number of chairmanship positions with US Sailing, as a Sailmaker, sailing coach, and most recently as the Director of Sailing for the two-time National Collegiate Sailing Championship Team at the College of Charleston.  Greg's honors in boating and sailing are too many to mention, but include the US Sailing Hanson Medal for life saving rescue, the US Sailing Community Sailing Award for Outstanding Director of a year-round sailing program, and US Sailing' Gardner Trophy – One-Design Service Award, to name just a few.  He is also a several time nominee for US Sailing's greatest honor, the Rolex Yachtsman of the Year.  Just this past month, Greg was hired by US Sailing as the new Chief Operating Officer for Olympic Sailing.  Greg and his wife JoAnn currently reside in Mt. Pleasant, S.C.
To learn more about Greg, click on the image above for the US Sailing Press Release regarding his new position.
Mike Hein, son of P/C Mike (1974) and Joan Hein, grew up at BLYC and also has gone on to have a very successful career in the sailing and boating world.  As a BLYC Junior, he won the Lightning Class North American Championships in 1982.  From there, he went on to instruct junior sailing at the famed San Diego Yacht Club where he met America's Cup legend Dennis Conner.  While sailing with Connor aboard Stars & Stripes, he also met Bill Koch for whom he crewed on two World Championship Maxi Yachts and aboard America3 – the winning yacht in the 1992 America's Cup.
Following his racing days with Koch, Mike and his wife Annie, settled in San Diego and remained in the sailing industry for several years.  In 2000, they relocated to Aukland, New Zealand and Mike began a career as a yacht captain aboard the 130′ motorfisher Mea Culpa.  Today, Mike is the private fleet captain for the Emir of Qatar.  Mike, Annie, and their children, Abigail and Max, currently reside in Gold Coast, Queensland, Australia.
To learn more about Mike's career and his time sailing America's Cup in particular, please click on the image above.
It's been a busy summer of sailing – so busy that it's been some time since we put up a SLOG post.
The most recent happening was the I-LYA Junior Sailing Championships at Put-in-Bay – Junior Bay Week.  This year, the BLYC team consisted of five juniors – Matthew Davis, Oliver Krajewski, Katy Schroeder, Susannah Schroeder, and Olivia Smith – and our coach, Michael Davis.  Over 35 BLYC members were up for at least part of the week supporting our juniors and many also helping with the regatta.  4 days of GREAT sailing weather in the Lake Erie islands and a whole lot of fun.  This was the final year of eligibility for Matthew, Oliver, and Susannah.  They have represented us well through the years!
Here are some  pics from the week: